Where local prodUCE & local artisans come together.
Local Produce

Our market carries more than 120 varieties of fresh seasonal fruits and vegetables including our farm grown super sweet corn and deliciously crisp apples!



---

Flowering Annuals & Perennials

We grow our own annuals and perennials! Visit us in the Spring to see all of the colorful options available to help brighten your garden!


Our Partners

We do our best to find partners that care about the products they provide and ingredients that they use. We nurture these relationships and know all of our vendors and producers personally.

Battenkill Valley Creamery, one of our partners, delivers all natural milk to us twice a week! Their milk is always fresh from the cow, creamy, and delicious! (Their chocolate milk tastes like a chocolate milkshake- it's a MUST try!) The milk is sold in glass-bottles so deposits are required but refunded when the bottle is returned.


Fresh from the Bakery

We bake pies daily and make our apple cider doughnuts all day long so they are always fresh! Stop in to see our doughnut maker in action! We also bake cookies, dessert breads and apple dumplings. Call us ahead of time if you need a pie or doughnuts for a special occasion!



---
Honey

Local honey is good and good for you! Come and see the giant honeycomb that was carefully removed from one of our peach trees! Nature's work of art is both intricate and beautiful! We have various types of honey so stop by to choose your favorite!



---

Cider Press

Freshly cold-pressed sweet cider is made from our own special blend of apples and is available year round. We never use any additives or preservatives. Enjoy hot or cold! If you like cherries you must try our Apple Cherry Cider!



---
Other Goodies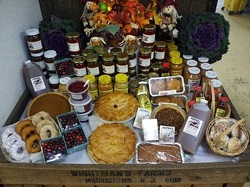 NEW- we also now have a selection of prepared foods from salads to sandwiches! Feel free to call the farm to find out what's cooking in our kitchen today!

Our market specializes in locally produced jams, jellies & preserves, breads & desserts, pastas & sauces, pickles, relishes, snacks, granolas, grains and much more! We also carry beautiful giftware including handmade custom pottery, candles and fair trade handbags. We have the unique gift you are looking for!


---
1111 Mt. Kemble Avenue, Morristown, NJ 07960
(973) 425-9819